Brother ProX PR1050X 10 Needle Embroidery
Purchase In-Store Only
10-needle embroidery machine with automatic needle threading
7 x 14 hoop embroidery field
Large 10.1″ built-in high definition LCD display
My Design Center – no PC needed!
Description
Entrepreneur Pro X PR1050X
The Most Innovative 10-Needle Home
and Small Business Embroidery Machine
Introducing a product so revolutionary that it could only come from one company. A company that embraces embroidery enthusiasts and entrepreneurs. Those looking for a highly powerful and efficient 10-needle embroidery machine but with the ease of use and reliability that only Brother can provide.
Some of the new eXciting features include:
Virtual Design Preview™, superimpose your design image on fabric without scanning.

Seeing is believing.

Powerful on-screen letter editing
Smart stitch management
InnovEye® 2 Technology now for Cap and Cylinder Frames
High speed background scanning – 5 x faster
My Design Center for even more creativity
Included BES®4 Dream Edition Lettering and Monogramming Software with Wireless Upgrade
eXtraordinary
10-needle embroidery & versatility
10 Needles | Eyelet Threading System | InnovaChrome™ LED system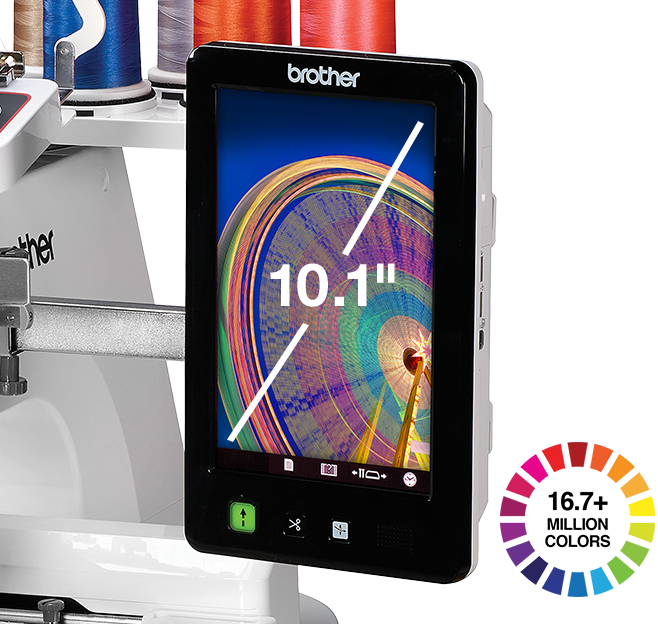 INDUSTRY-FIRST
eXceptional views

on the LCD display
45% larger than prior multi-needle displays
eXperience
our <span="linebreak">brightest work area ever</span="linebreak">
ENHANCED RUNWAY® LIGHTING
Shine brilliant light on your designs with our brightest work area ever! The PR1050X casts pure, full-spectrum lighting onto your workspace with 5 built-in LED lights.
Customize the light with any of the 5 settings
Shadows are practically eliminated, helping to ensure precision and complete accuracy
Enjoy redder reds and bluer blues
UP TO 20% QUIETER
Our newest multi-needle machine is engineered to be quieter – up to 20% quieter than prior models!
NEW! EASY OIL MAINTENANCE
Oiling your machine has never been easier! Simply press the oil button on-screen to set the hook angle at the best position for oiling.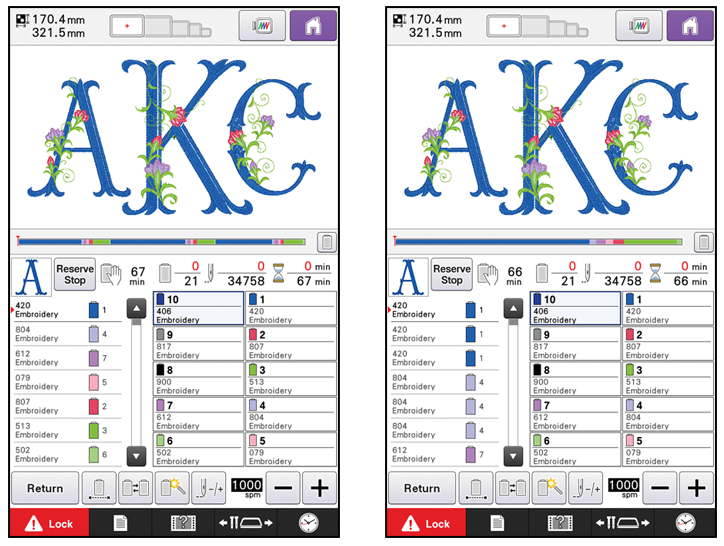 eXceptional design

capabilities at your fingertips
NEW! Color Sort
NEW! Smart Stitch Management
NEW! Color Shuffling™ 2 Function for Even More Color Possibilities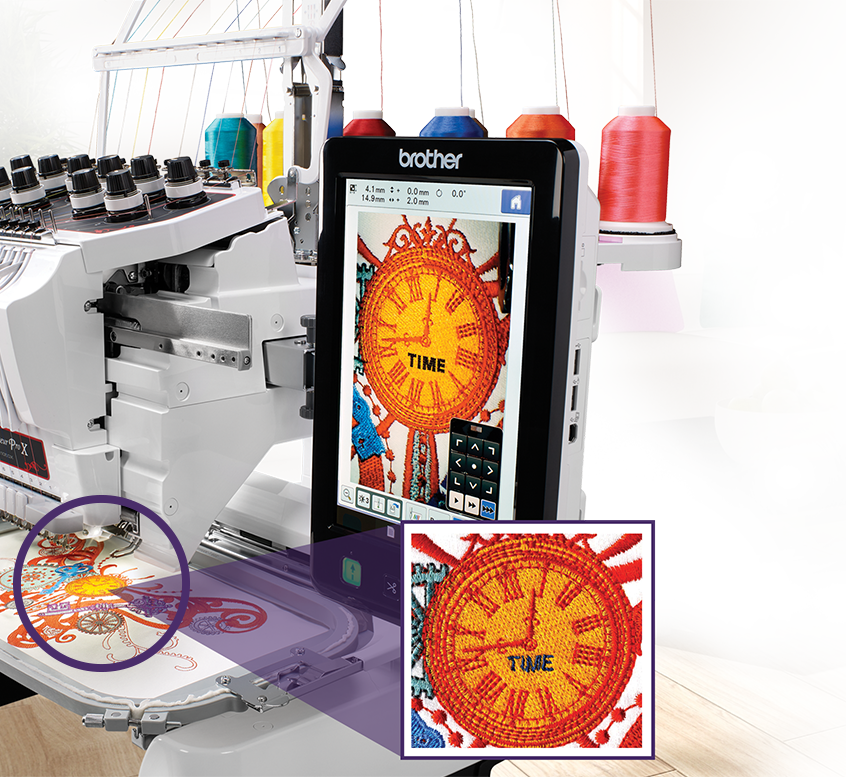 INDUSTRY-FIRST
eXact design positioning with enhanced InnovEye®2 Technology
IT'S LIKE HAVING A BUILT-IN CAMERA AND SCANNER
This industry-first technology gives you a live and up close view of the needle area for the most precise positioning ever.
INDUSTRY-FIRST
eXplore
your inner artist with My Design Center
My Design Center integrates with our industry-first InnovEye® 2 Technology to offer new design capabilities at your fingertips, all without a PC.
INDUSTRY-FIRST
eXhilarating wireless freedom with BES®4 Dream Edition Software
BES®4 Dream Edition is a full-featured lettering, monogramming and customization PC software program PLUS a free wireless upgrade kit and access to a free cloud-based application for storage and basic on-the-go editing capabilities.
Create designs with PC-software | Connect wirelessly | Make edits on the go
eXpansive
embroidery area for creating exquisite embroidery designs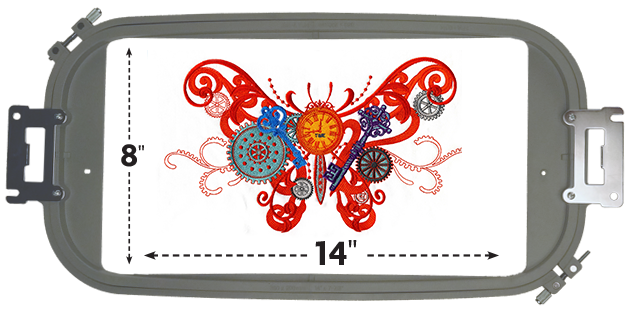 Stitch out the built-in designs as they are, or express your creativity with the design editing features which allows you to customize your creations. Personalize in just about any style with a full range of built-in fonts. Personalize fonts by adjusting the spacing, or change the thread density to improve the look of stitching.
699 built-in embroidery designs including new Steampunk and Gothic Designs
8 built-in monogram font styles
37 built-in fonts
140 frame pattern combinations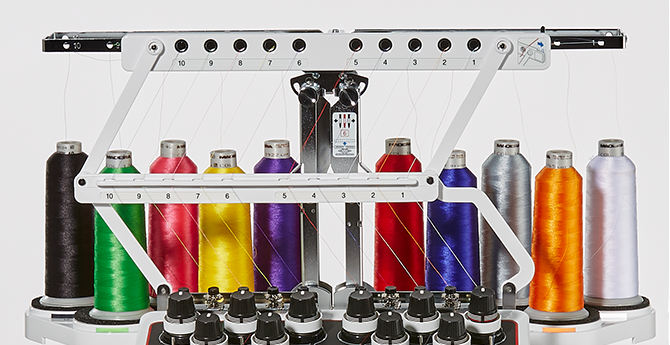 10 THREAD COLORS
Defy embroidery as you've always known it by stitching designs up to 10 colors without changing thread. Many 20-color designs can be completed with just 2 thread changes. And for variety, switch to monochrome mode to stitch multi-color designs as one-color designs.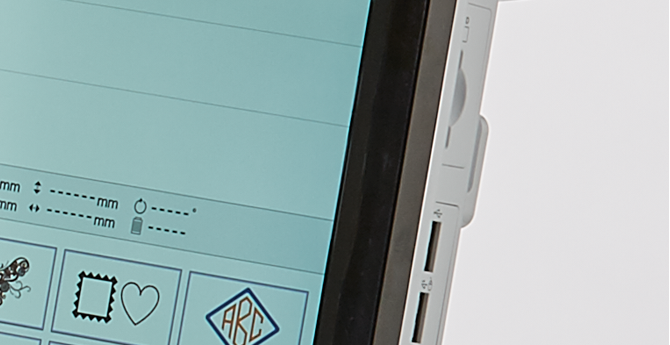 BUILT-IN USB PORTS & COMPUTER CONNECTIVITY
2 high-speed ports and SD card slot. Now you can copy multiple design files from your USB to the machines memory at once.
eXpand your creativity

with optional accessories

New Compact Frame Set
New Clamp Frame M
Sleeve Frame
Cap Frame Kit/Wide Cap Frame Kit
ScanNCut2 CM650W
Simply Appliqué Software
PE-DESIGN® 10